Renovate vs. Custom Home Build
October 16, 2020
Outdoor kitchens are a beautiful addition to any home or patio, especially if you live in a state like Florida. In places like Jacksonville and Northeast Florida, with ideal year-round weather, summer kitchens enable you to grill out and entertain family and friends all year long. If you're considering building a custom Florida outdoor kitchen, there are a few critical items you must have to make your outdoor cooking environment as convenient, enjoyable and beautiful as possible. At Denneen Custom Home Builders, we have decades of experience creating amazing outdoor kitchens in Florida and know what those features are. Here are our 5 must haves for a Florida outdoor kitchen.
1. A Well-Planned Location
An outdoor kitchen is an extension of your indoor living space, so it makes sense that you'd consider some of the same location factors when planning it. Obviously, you'll need to consider what you have to work with. Do you have a patio? Is it covered? How about a pool, cabana or hot tub? Do you plan to add any of these features in the future?
Consider your landscaping and view sightlines. While you're grilling, do you want to be able to look out towards the pool to keep an eye on the kids? Where will your grill go? What kind of seating will you need? Do you plan to have an entertainment area? Ask your custom outdoor kitchen contractor for input and map out your ideal design, giving careful consideration to these important location factors. One important thing to note is that the further your outdoor kitchen is from your house, the further you'll need to run gas, water and electrical lines.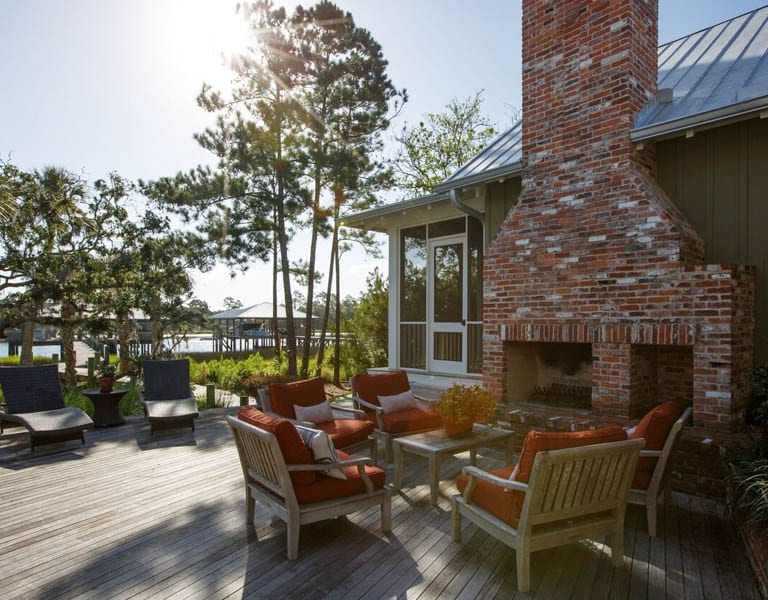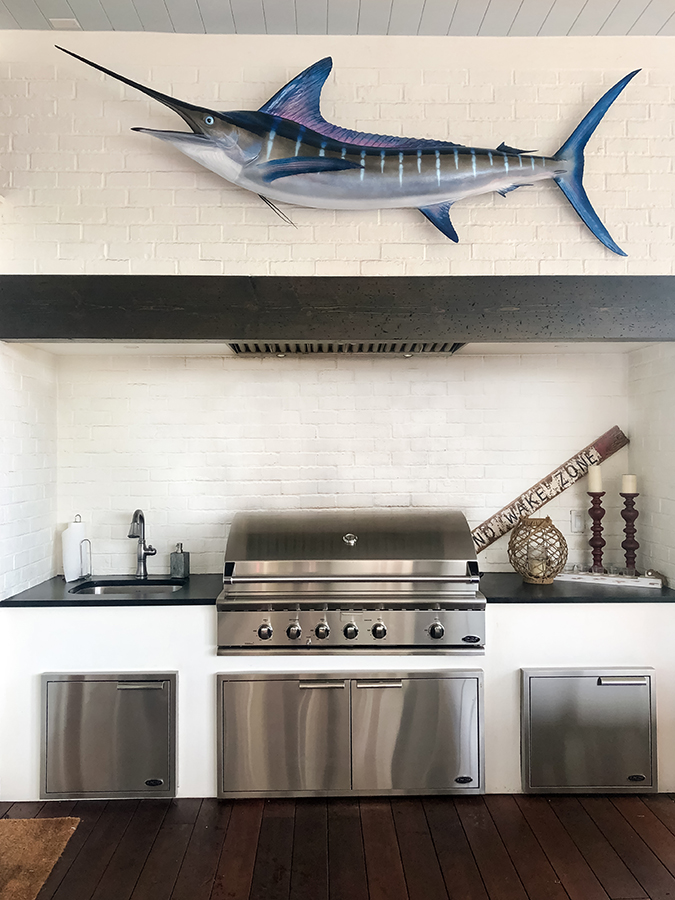 2. A Quality Grill
Don't sell your lovely new outdoor kitchen short by settling for a sub-par grill. Remember, it's likely going to be the star of the show! There are all kinds of barbeque grills available with the fuel used to cook foods being the biggest differentiator. There's gas, propane, charcoal, wood pellets and more. Built-in gas grills are generally the most popular choice for outdoor kitchens. Some people prefer gas/charcoal combinations. These days, smokers and brick pizza ovens are also popular features for enhancing culinary experiences.
Most grills are made from sheet metal, cast aluminum or stainless steel, with grates made from porcelain-coated cast iron or steel. Depending on how many people you envision entertaining, a 4-to-6 burner grilling surface should suffice. You'll want at least a 450-500 square-inch grill grate (a 500-square-inch grate can hold 24 hamburgers). If you like to cook with indirect heat, you'll want something larger in the 700-square-inch range. Keep in mind that cabinetry and countertops often get designed to fit the appliances, so choose your grill first!
3. An Outdoor Refrigerator & Ice Maker
Outdoor cooking shouldn't be like a camping trip—lugging bags of ice to keep in a cooler on the patio. The best Florida outdoor kitchens have everything you need, right at hand. There are many great outdoor refrigerators and ice machine selections, made especially for built-in use with summer kitchens. Most are stainless steel, compact (approximately 24" wide for refrigerators, 15" wide for ice makers), and consume little electricity.
But first thing's first: always make sure your refrigerator and ice maker are outdoor-rated. Because outdoor temperatures constantly change, outdoor refrigerators and ice makers must work harder. A UL-rated outdoor refrigerator indicates that it has been designed to do just that. This rating also ensures that the unit is weatherproofed.
Outdoor refrigerators come in both front- and rear-vented models. A front-vented fridge is often the best choice because it can be installed right up against a wall, tucked into custom cabinetry. Rear-vented refrigerators need space around the top, sides and back. Most high-quality outdoor refrigerators from brands like Sub-Zero offer multiple shelf, drawer and food storage configurations, are easy-to-clean, and built to last for years.
4. A Thoughtfully Designed Seating & Dining Space
You're going to want to dine in comfort and style, so make sure to plan for enough seating for your entire family, plus a few guests. At minimum this means a table and chairs, but you may also want to think about adding a countertop bar with barstools. This type of set-up invites socialization and emphasizes a feeling of hospitality.
Florida weather can be unpredictable, so consider features like a covered seating area under a vaulted roof or pergola to provide shade and rain protection. Want even more use throughout the year? Consider adding a fire pit to use on chillier days and evenings.
Once you have settled on the configuration of the primary elements of your outdoor kitchen, including the seating and dining spaces, remember to consider lighting. Don't make the mistake of creating a beautiful outdoor space that you can only utilize during the daytime!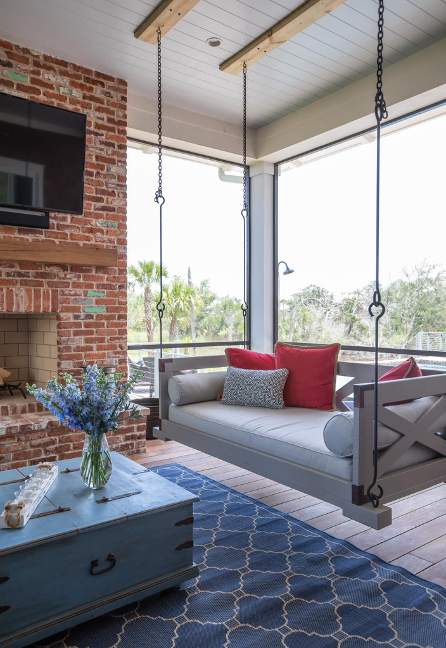 5. Ventilation & Air Movement
Finally, if your outdoor kitchen will sit within a screened-in porch or covered patio space, you'll need to think about ventilation and air movement. A large ceiling fan above the seating area can be a lifesaver on humid Florida days. A proper ventilation hood above your grill or cooktop will also be crucial. These elements add functionality and an extra level of comfort to your outdoor living space.
Your outdoor kitchen will be an investment that not only adds value to your home, but one that will provide you endless enjoyment for as long as you live in it. Make sure to invest the time to plan and build it right.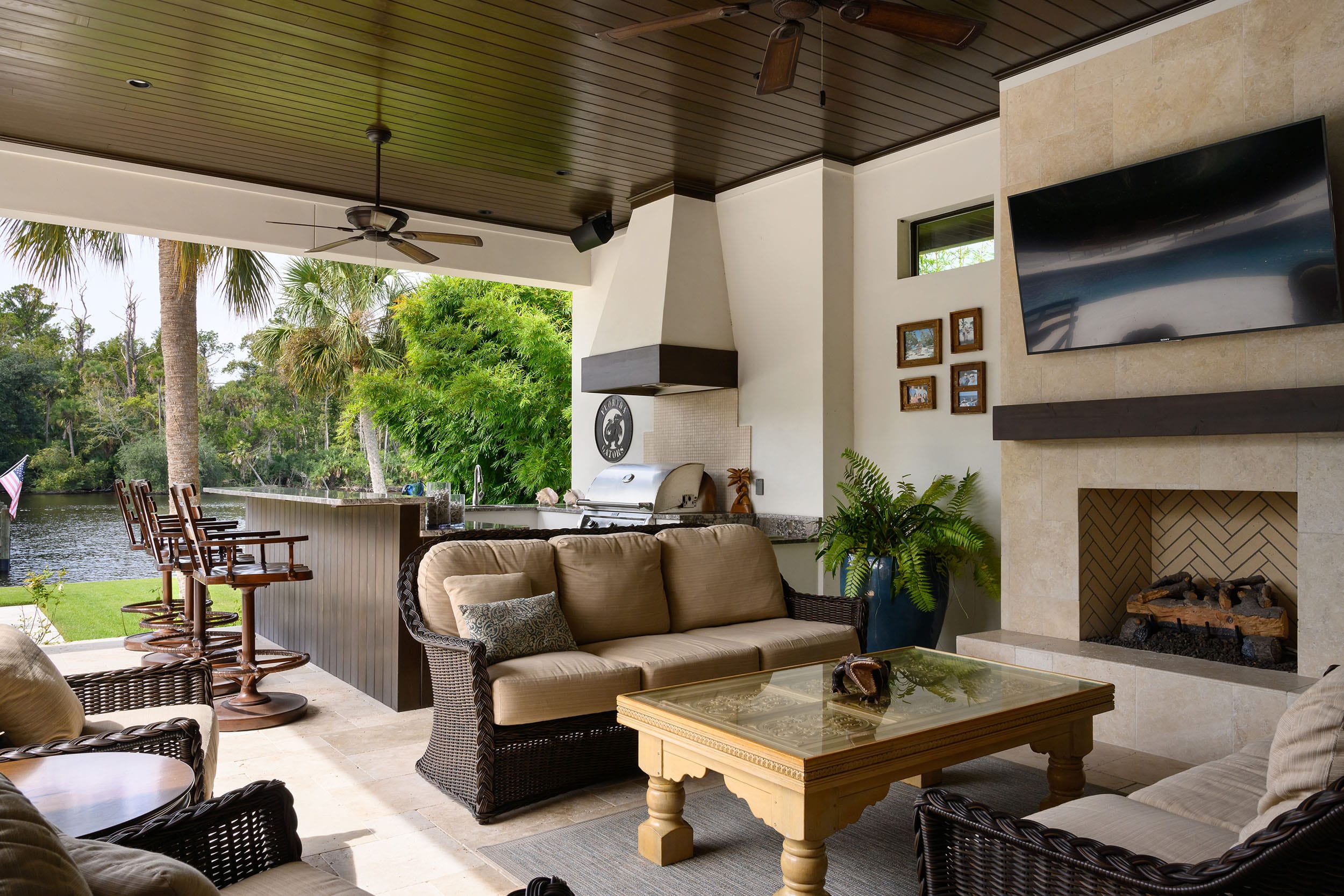 ---
If you live in Ponte Vedra Beach or the coastal Jacksonville area and are thinking about creating a custom outdoor kitchen for your home, then give Denneen Custom Home Builders a call at (904) 834-3701 for a complimentary consultation.