Voted Best of Houzz 2021
February 5, 2021

May is National Home Remodeling Month
May 17, 2021
Benefits of Rebuilding a Home on Your Own Lot
Are you considering building a custom home on a lot you own at the Jacksonville Beaches or Ponte Vedra Beach areas in Northeast Florida? If so, this guide will help you understand the benefits, and challenges, of building on your own lot. There are many factors to consider when building a custom home. For many of our clients, one of the first decisions is choosing whether to tear down and rebuild their new home on the land they already own, or to search for an open lot for sale in another part of town.
One factor that is important to review during that decision process is the
local zoning ordinances
regarding lot coverage—the percentage of the lot which can be covered by a home structure. In Jacksonville Beach, for example, lot coverage is capped at 35 percent but homeowners may be able to apply for a variance to get approved for as much as 45 percent. This is why many homes in the Beaches area built up to three stories, because it will not affect the "footprint" percentage on the lot. An experienced home builder like Denneen Custom Home Builders will help navigate through important issues such as zoning ordinances.
We see more and more homeowners decide to tear down their old home and rebuild in the same spot a dream custom home that is completely tailored to their modern needs and style. Here are a few things to keep in mind when deciding to renovate or rebuild a home on your own lot:
1. The opportunity of building your dream home where you already live
Perhaps the best part of
re-building or renovating a home
on land you already own is that everything you love about the location will remain the same. Your existing lot may hold sentimental value to you and your family, have unbeatable views, or be in a neighborhood that you simply cannot bring yourself to leave. Whatever the reason may be, you can have peace of mind knowing that you are in an area you are familiar with, and do not have to worry about adapting to a new location.
2. More flexibility with home design
Custom building a home
on your own land allows you to get exactly what you want when it comes to design. With a new custom home, or an extensive renovation, you'll have control over the materials used, which lends itself to maximizing quality. New construction "production homes" are built so that the builder maximizes profits. That may end up costing you more in the long run. Buying new construction is the quicker route—that's no question—but you'll likely end up settling for a floorplan or home features that don't completely suit your vision.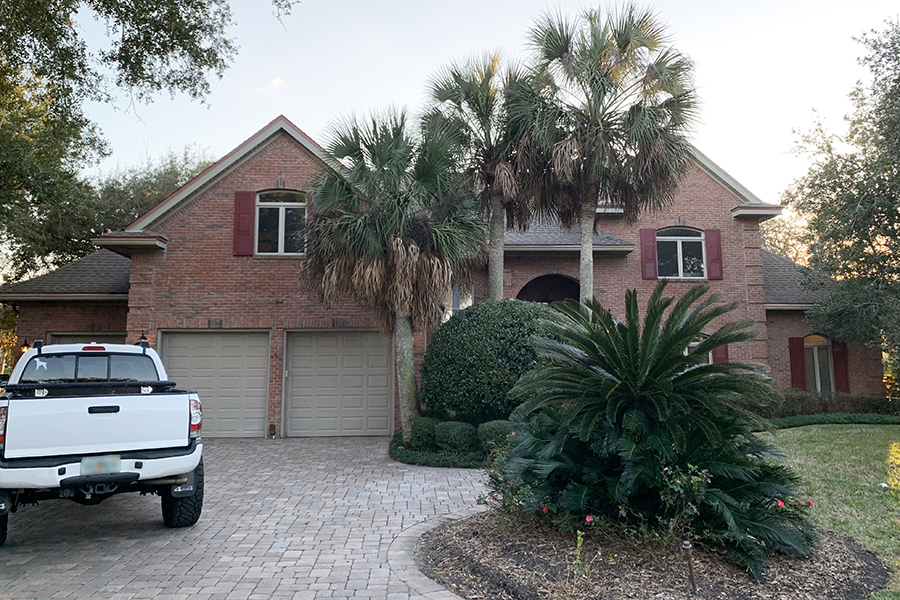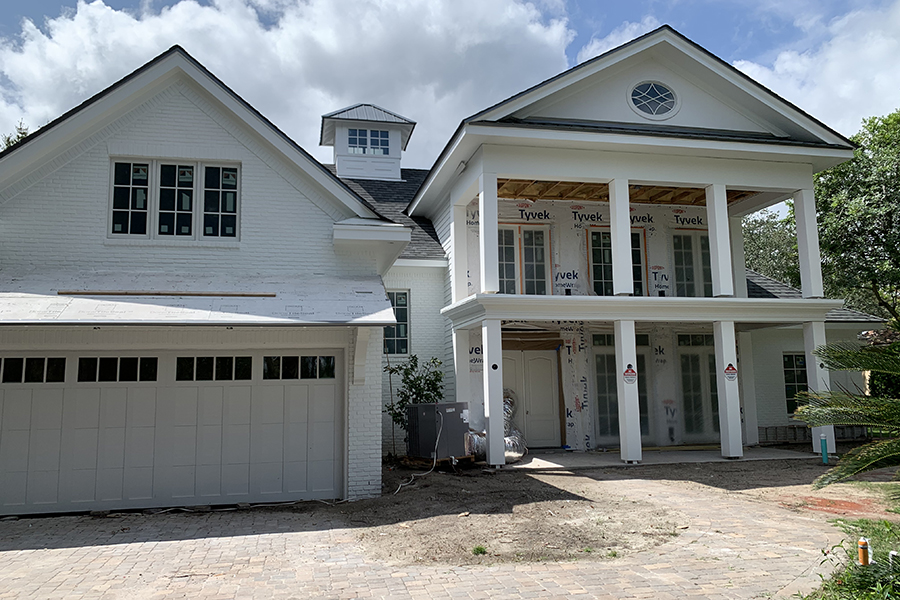 Here is an example of one of our current projects which is a complete remodel on the same lot. The homeowners desired a stately, Southern coastal-style home instead of the traditional builder-grade brick design they had before.
---
3. Searching for land for sale can be difficult
While the housing market is "hot" right now, in reality there are few vacant lots for sale in Ponte Vedra Beach. And there are even fewer lots for sale that come unattached to a builder or developer. Many of the new neighborhoods under construction in Northeast Florida are being sold as lots with stipulations that the home is built by one or a few "preferred builders" and many are built from pre-existing floorplan options. If you want to choose your home builder and have complete control over the home design, it might make sense to consider rebuilding a new home on the land you already own, instead.
When you build or rebuild a home on your lot, you can be confident that the building materials, appliances, and finishes will all work for you for years to come. Your custom home builder will help recommend materials within your budget, as well as show you possibilities and special features that you might not have even thought to consider on your own. Even the smallest of details can leave a lasting impression and provide satisfaction with your new home for many years to come. Through the custom home building process, you can also compare options with ROI in mind, determining what design elements and features will ultimately add the most value to your home—should you sell it in the future.
5. Improved Energy Efficiency
Building your own home means choosing top-quality modern materials from start to finish. This means being able to choose the appliances, HVAC system, lighting fixtures, and even structural components that can all improve the energy-efficiency of your home. Energy-efficiency can also be improved by introducing better insulation and windows during an extensive home renovation project, such as building a new owner's suite, a second-story or expanded kitchen space.
---
Denneen Custom Home Builders is a custom home builder located in Ponte Vedra Beach, Florida. We are dedicated to building and renovating homes with integrity, honesty, and dependability. If you are ready to begin building the home of your dreams, contact us today to schedule a consultation!